Now about this grooming lark. It happens every day. First I have my coat brushed with a nice soft brush, then the comb, to have the knots taken out, then a hard brush. My coat is now nice and smooth and dad says how smart I look, and I think to myself-not for long, you just wait. Now to the bathroom for my teeth to be cleaned. I like this, it is nice and minty, (my toothpaste that is).

I also get to chew my toothbrush if Dad is talking to Mum, now that is yummy. Then my ears and feet are checked. When this is over I always pretend I need to go out. This is what I do when I go outside. I ROLL and ROLL on the lawn till my coat is very untidy, just the way I like it.Mum calls me "what a mess" any way.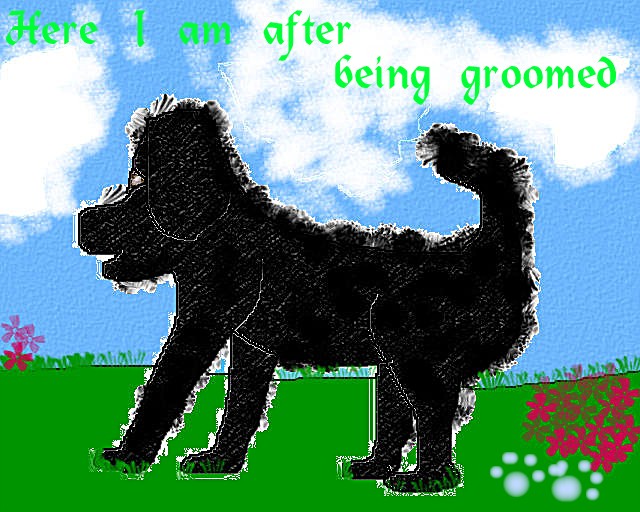 Then you have the bath. This usually comes when mum says,"you smell a bit doggie". Well what do expect? I am a dog after all. Now in the summer I have my bath outside, a good shampoo, then some nice conditioner, and all rinsed of with the garden hose and then rubbed dry with lovely big soft towels. When finished Ilook like a big powder puff.

Right, no ones looking, lets roll in the flower bed and get a bit grubby. WHOOPS! It's a bit muddy, Mum has just watered. Never mind, as long as I am lying under the tree, when they come out they won't know, not unless you tell them. You won't, will you?
Now in the winter bath time is completely different. I get to go in the big bath, nice warm water, some shampoo and all the other things, but I get Mum and Dad very wet and the bathroom also. Now I know you will laugh when I tell you this but the hair drier comes out, And I blow up even bigger than a powder puff. I look like a big furry balloon on legs.

Now there is no going outside and rolling around, all I can do is shake and try to get my coat in some kind of order.I will try and draw a picture of me looking like a balloon on legs. Then you can have a good laugh. HA! WOOF! HA! WOOF!